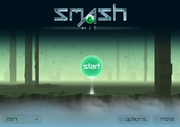 Here are some challenges I made myself. Difficulty ranges to Simple to Expert.
Simple Challenges
Boss Speed Defeat
Simple, defeat a boss as quickly as possible.
No-Hit Run
Difficulty ranges. Don't get hurt here.
Destroy all Crystals you see.
Easy Challenges
Complete a Checkpoint or Checkpoints without collecting ANY power ups.
Do a bug!
Do a glitch.
Medium Challenges
Zen Practice
Practice using Zen Mode.
Completely destroy a Boss.
Destroy everything on a boss.
Hard Challenges
1 object only.
Destroy one type of object. (Crystals have to count.)
Supreme Breaker
Destroy EVERYTHING you see.
Expert Challenges
No Crystal Run
Hit no crystals on purpose.
New High Score!
Beat your high score.
Ad blocker interference detected!
Wikia is a free-to-use site that makes money from advertising. We have a modified experience for viewers using ad blockers

Wikia is not accessible if you've made further modifications. Remove the custom ad blocker rule(s) and the page will load as expected.