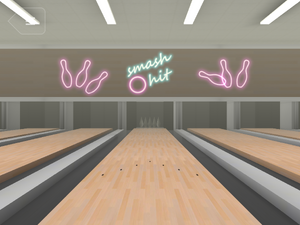 The Bowling Easter Egg is an easter egg in Smash Hit which lets the player to play a round of bowling.
How to reach it
Edit
Go to credits.
Destroy all glass objects.

Glass sheets with text
Triangle glass sheets

You will reach the easter egg.
Appearance
Edit
When the player reaches the Bowling Easter Egg, the forward-motion stops and (s)he will see bowling alleys with pins made of glass at 'his'/'her' bowling alley. Above the alleys, in qualities medium and high, there's a neon artwork with the text "smash hit", and bowling symbols.
The player can score up to 10 points by knocking down the glass pins with his/her balls. When all pins are knocked down, the next row of pins appears till the player has 10 points: Then, no more pins will appear.
Music and Duration
Edit
The music sounds like in a real bowling center; piano, stringed bass and flute play. The easter egg ends when the music is over: Then, the player comes back to main menu. He/She can also exit before that with the arrow-shaped button in the upper left side of the screen.
Ad blocker interference detected!
Wikia is a free-to-use site that makes money from advertising. We have a modified experience for viewers using ad blockers

Wikia is not accessible if you've made further modifications. Remove the custom ad blocker rule(s) and the page will load as expected.